Movie Review: Journey 2 The Mysterious Island
By Cher Cabula - Thursday, February 23, 2012
I know that this review is a little late in coming but bear with me as I write down some thoughts I had about this film. I wasn't able to watch Journey to the Center of the Earth prior to watching Journey 2, so I had no idea that Sean (Josh Hutcherson) was the same actor in the first film.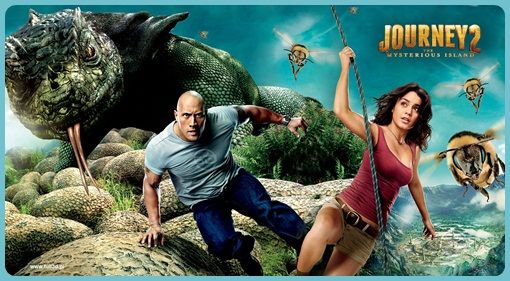 Plot
Sean's (Josh Hutcherson) adventure begins when he receives a mysterious signal that Hank (Dwayne Johnson) helped him decipher. Hank is his mom's new fiance. Before long, both were already on the way to the island of Palau where Sean thinks the mysterious island is located. They enlist the help of father-daughter team, Kailani (Vanessa Hudgens) and Gabato (Luis Gazman). Finding themselves caught in the eye of a hurricane, their chopper crashed onto the very island that they were looking for. Initial wonders of the island made it so much like paradise, until it began to divulge its secrets.

Parts that I liked
That code breaking scene. It was kinda cool how they used classic novels to decipher where the mysterious island was located. I noted that they must've been from the same publisher because the books had the same hardbound cover styles. The scene was a bit hurried but I liked it just the same.




You don't really need to see Journey to the Center of the Earth before seeing this movie. Although now that I have, there was an indication there at the end about what they would find in the mysterious island.

The Rock sang! I was a little surprised at this because I haven't really seen him do so. Apparently he sang a lot during his wrestling days. Well, he had a pretty cool soothing voice and the whitest teeth I've ever seen! Hahaha. Also the ukulele was a bit too small for his big biceps and arms.

I also like that bit about Vernians and how they think that Jules Verne wasn't basing his books on fiction. Wouldn't that be something!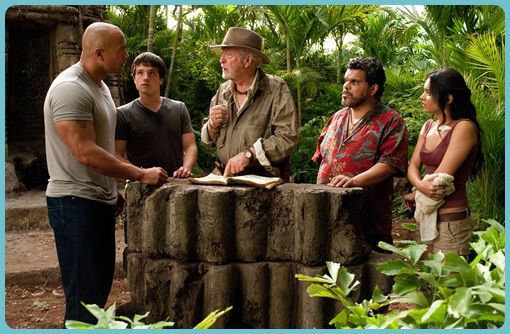 Verdict
All in all, Journey 2 The Mysterious Island is a good family movie that will keep you entertained. It might fall short on some key points storywise lacking some depth but it has a nice mix of humor, action scenes and characters. Most importantly, I think it teaches about the importance of family and how we would go to the ends of the world to see to their safety.