Dining at Mango Tree Bistro
By Cher Cabula - Tuesday, January 08, 2013
Last November, we got the chance to quell our Thai food cravings at the Mango Tree Bistro at Greenbelt 5 in Makati City. The interior of the store is relatively smaller than its flagship cousin at Bonifacio High Street but is just as cozy nonetheless. I love the intimate and mysterious mood that the black, purple and red orange color scheme exudes.

I love the bottom-lit wall accents behind the banquette seating inside the restaurant. It lends a nice glow and ambient light throughout the dining space.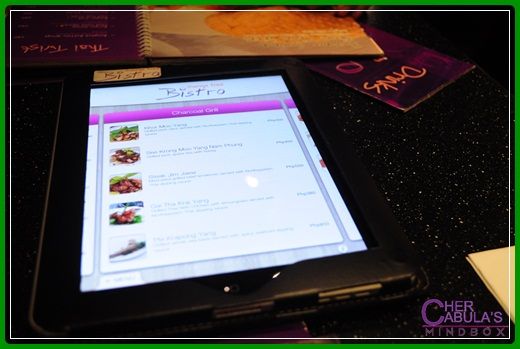 Browsing the menu with a tablet is a nice touch.
THE FOOD
We took our seats at a cozy banquette and started off our dinner with some shrimp cake appetizers.
Tod Mun Goong Php 280.00
Fried Thai Shrimp Cakes with Sweet Chili Dip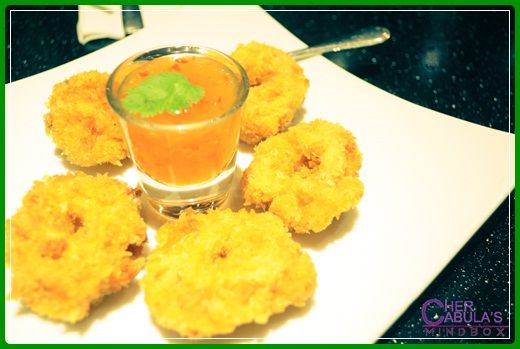 Five is simply not enough for this dish because it's oh so good. This was our favorite from dining at Mango Tree before and it still is. If you're going to dine at
Mango Tree Bistro,
this simply is a must.
Pla Meuk Gratiem
Php 250.00
Stir-fried mixed seafood with Thai herbs, lime leaves, lemon grass and oyster sauce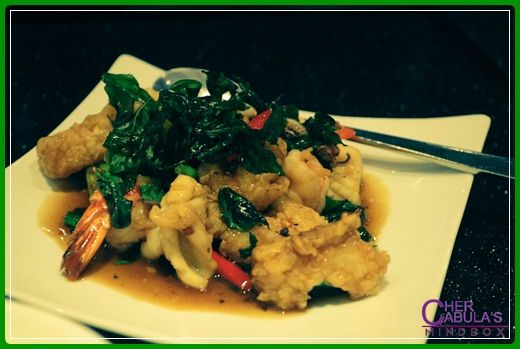 This was a spicy dish and perfect for your spicy cravings. The seafood meat were cooked just right and were evenly balanced out by the lime leaves and the oyster sauce.
Gai Tha Krai Yang
Php 280.00
Grilled Thai Herb Chicken with Lemongrass with Northeastern Thai dipping sauce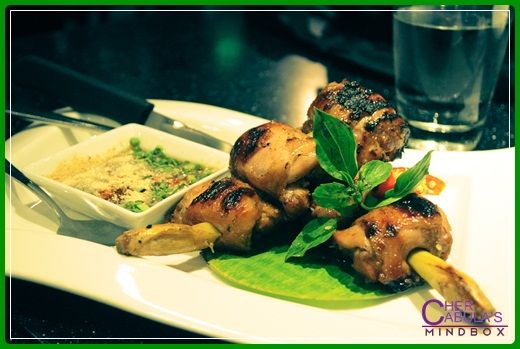 The secret to this dish is the lemongrass so don't be surprised to see it sticking out of the meat. The chicken meat was grilled just right and was soft and juicy.
Lemongrass Tea
Php 120.00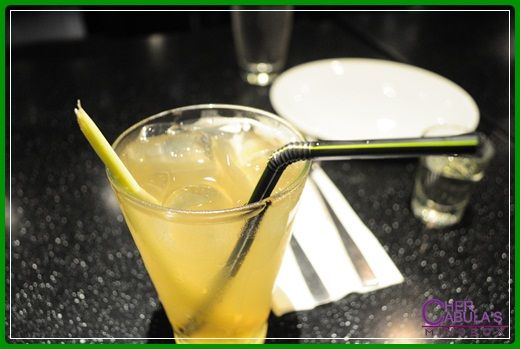 This is one of my favorite iced teas and it complimented the entire meal perfectly. You can sweeten the tea according to your taste with the sugary syrup provided.
Mango Tree Bistro
has a very helpful and nice staff who readily took our orders and little requests. The food that we ordered didn't take long to arrive either which always earns a restaurant plus points for promptness. The dishes are best shared and ample enough to be shared by two people although I wouldn't mind paying a bit more if they added a little more to the servings. Our choices from the menu were very good and we came out from the restaurant with happy tummies and with
Thai food cravings
satiated.
Mango Tree Bistro
G/F Greenbelt 5, Legaspi St. Legazpi Village, Makati
Tel. nos. (02) 576-9052