8 Reasons Why You Should Sign up on Goodreads
By Cher Cabula - Monday, March 25, 2013
I've been a happy member of Goodreads for a while now and aside from indulging my inner bookworm, it's also a site that has helped me meet good friends who share common interests in book genres. For its members, Goodreads is not just a social networking site for bookworms, it's so much more. Signing up is free and would just need a couple of minutes filling out your profile and then probably a couple of hours putting in books you'd like to add to your collection.

Here are my top 8 reasons why you should sign up on Goodreads.
ONE
It lets you know which books have just been released and which are popular among readers for a certain month.
I've even signed up for the monthly newsletter so that I'd get first dibs on the upcoming novels. The newsletter also lets me know about blog posts or new books that have been published by authors whose works I've already read. It's great for finding new books at the start of the month.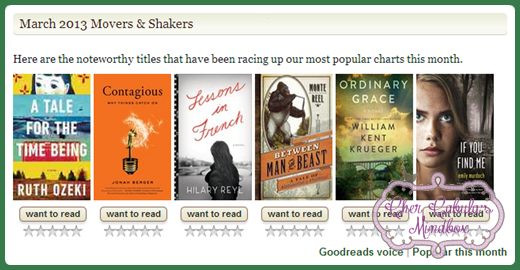 TWO
The site actually helps you read more.
You must first sign up for the reading challenge and then set a goal of how many books you want to read in a year. You can update your progress anytime and even put mini-reviews of the book as you read along. This is great because when friends see your comments and progress on their feed, they can ask for recommendations or your opinion on the book. It's also fun to read about the reviews from users on books that you've already read, currently reading or plan to read in the future.




THREE
The site makes it easier to find the next book to read.
There had been more than one occasion that I found myself at a loss trying to decide what next book to read. This is always the case when I've reached the end of a book series. There's a searchable database of books on Goodreads that are arranged by genre. There are even user-generated lists of books according to topic that you can browse. The other feature is that, Goodreads tracks down the novels you have read and analyzes it and suggests book recommendations for you. Of course, as you go through the book list (my default view is the grid view), you can see the synopsis of each novel and its rating among users/critics who have read it.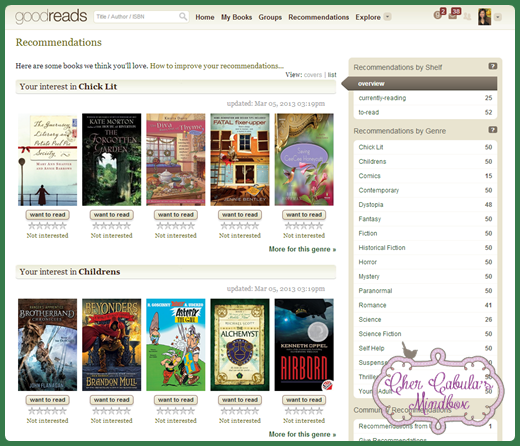 FOUR
You can join groups with the same interest as your favorite reads.
Here you can find people who are fellow bookworms and like the same books as you. You can discuss books or engage in a monthly activity of reading a book that members have voted on. There are even arrangements of meetups if the group is made of local members.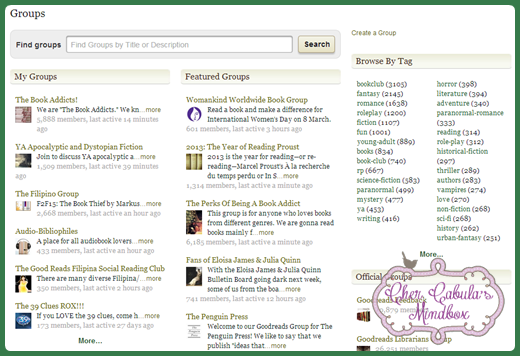 FIVE Get a chance to see all the books you've read and want to read in the future.
You can actually sort your booklist to categories of your liking or just use the default ones provided by the site. Again, I like seeing the book list in grid view because I've always liked looking at book covers. As you can see, I've already amassed a huge collection in my list. Everytime I browse websites on the net and see new books that look interesting from suggested lists, I put it here in my Goodreads collection so that I won't forget to look for it the next time I'm at a bookstore. Goodreads hasn't failed me yet in adding a book I want to read.



SIX
You can browse through quotes from writers and from books.
This is where I go to when I need inspiration or a quote that I need to include in a blogpost. The quotes collection is quite massive and you can lose more minutes perusing each one. If you find one quote that you want to share with friends, Goodreads has a link to Twitter and Facebook.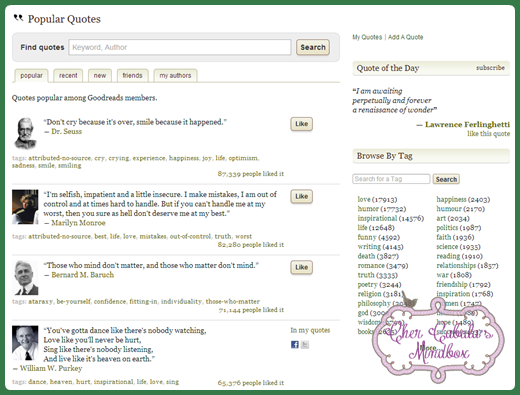 SEVEN
If you see yourself as an expert when it comes to one book or a series, you can take a quiz.
These quizzes are so much fun. Some of them have been made by the site devs and while some were submitted by the users. They're great for finding out some little trivia or factoid from a novel that you've loved. I'm amused at some details that I miss out in some books.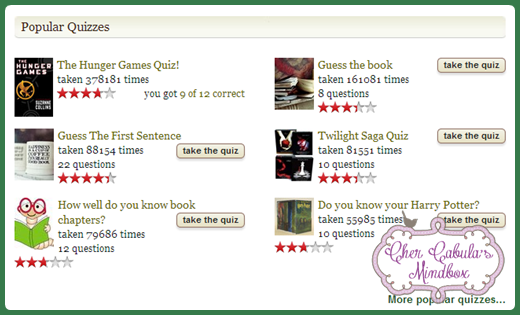 EIGHT
It's a great way to see the book covers available for a book.
I know you've heard about the saying "Don't judge a book by its cover." I'm guilty of this literally because how nice a book cover is will be a great factor when I'm choosing a novel in a bookstore. It's the first thing that will catch my eye and then I will read the synopsis at the book's back cover. If both are good then I just might end up buying it. This feature of Goodreads lets me see what other book covers are available for a particular book. I usually pick the best one.