Trying out Janetter: An Alternative Twitter Client
By Cher Cabula - Monday, July 01, 2013
I had discovered Janetter by chance while I was doing a search for an alternative desktop Twitter client for Destroy Twitter which was the Twitter client I was using at the time. After several months of happy use, all of a sudden DT showed an update error and the app wouldn't work anymore. Too bad because I had really loved the features of DT. Luckily, I stumbled across Janetter and it had two of the features that I wanted – a pause in notifications and themes (lots of them). Janetter is available free for download with versions for Windows, Mac as well as Android and Apple devices. Upon initial launch of the app, you'll be asked to sync this with your Twitter account and an option to choose which theme you'd like to use.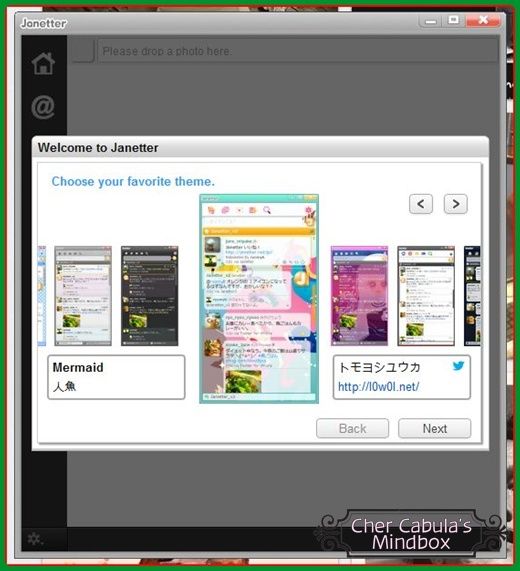 Call it a minor feature but I really liked the ability to be able to dress up my Twitter client with the theme that I liked. This is not something that's readily available for other Twitter clients. After making your selection, here's the default app window for Janetter which shows three columns by default. Your Twitter timeline, interactions or mentions and your direct messages.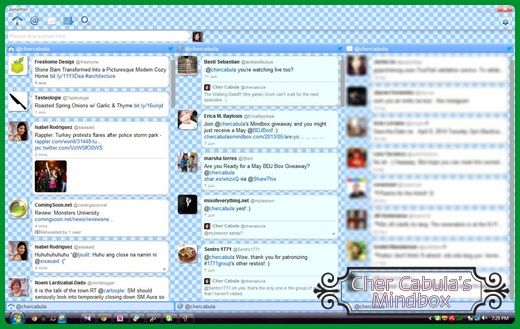 If you wish to view your Twitter feed in minimized view, the app's window will default to the width of a single column.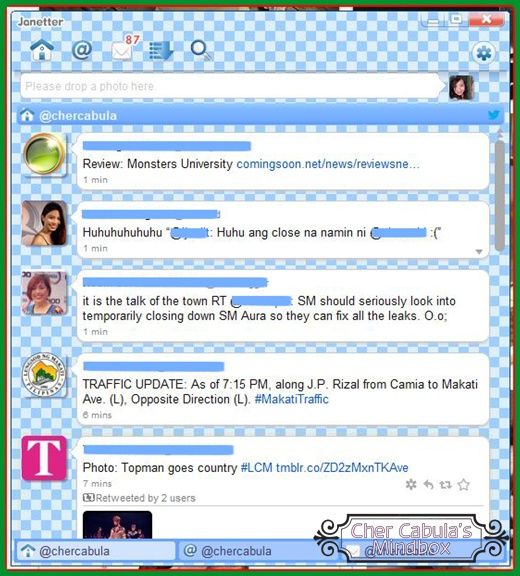 You can switch between columns via the bottom tabs. If you make a search for a person or a trending hashtag, it will show up as another tab beside the ones that you already have.



Here's a look at the upper menu functions for Janetter. If you have unread Tweets, they will show up as notification numbers on the upper right of the icons. You can update your Twitter with the message box, (limited as usual to 140 characters) that has options to include a photo, a shortened URL link and a hashtag. These can be accessed via the icons at the bottom left of the message box.


You can fully customize the settings of Janetter through the settings function. Here you can also view your profile, go to a friend's profile or even see the popular Twitter trends. As I've mentioned you can choose to enable or disable the automatic scroll which is also the "pause" button for the feeds.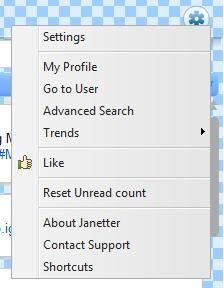 Also another plus is that it's easier to keep track of Twitter conversations with Janetter. Before with other Twitter clients, I have to make a few more clicks just to retrace which conversations a friend has replied to. Like here for instance, I've replied to a friend's Tweet and I can immediately see below my Tweet what status I've replied to.



If a friend answers your Tweet, the view is pretty much the same but this time around you'll see what Tweet of yours, your friend has replied to.



If you find yourself too overwhelmed with the number of unread Tweets that you have to sift through, these buttons will help mark them as read or help you jump to the latest Tweet.



I've been using Janetter for several weeks now and I'm very happy with it. I've also installed the app on my Android devices and it's been pretty easy to use there too. If you're looking for an alternative Twitter app or just willing to try out a new Twitter client, this app is a good choice. I just wish that they'd add a scheduling feature soon. If they do, then this app would be perfect.

Janetter Twitter Client Windows/Mac Download Link
Google Play Store Link
Apple App Store Link