Trying out the New Nescafe Frappe
By Cher Cabula - Thursday, July 18, 2013
Last week, my sister asked me to buy her some stuff to include in my grocery list. So there I was at the coffee isle and was scouring the shelves for the type of coffee that she wanted. I always find it hard to see the Nescafe Cappuccino packets with its faded brown tones among the more colourful ones from other coffee brands. I noticed that there was a new addition to the coffee product line of Nescafe on the shelves. I got curious enough to try out the Nescafe Frappe and I knew my sister loved iced coffees.

Nescafe Frappe
taste but is given a subtle flavor by the cookie sprinkles and the mallows. Of the two, I'm still fonder of the plain iced coffee taste without the additional flavoring. Let me tell you why.
Nescafe Frappe Cookies 'n Cream
The cookie sprinkles didn't dissolve into the coffee as I had expected it to. By itself, it was a bit too sweet for me plus it was also a bit off putting to watch out for some of the cookie bits getting stuck in between my teeth. When I finished the mug, most of these were stuck at the very bottom.
Nescafe Frappe Choco 'n Mallows
When I finished making this in a tall glass, I had the impression that it looked very much like one of the
Swiss Miss
drinks that my mom loves. Unlike those though, the little mallows didn't dissolve into the coffee as well. They pretty much stayed at the top where some bits get mixed in when I take a sip of the coffee. Again, I was not too crazy about this as well. Those little mallows were too sweet for my taste.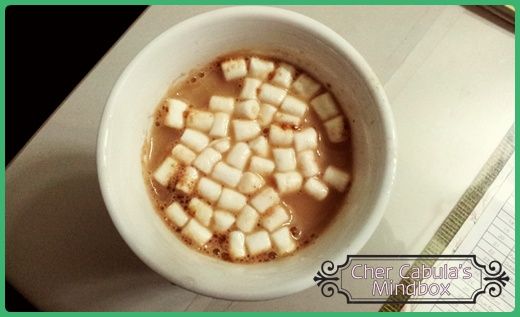 Still the
Nescafe Frappe
line looks promising. I am hoping for more flavors in the future though. If they come up with coffee that has dark chocolate bits and mint, then that would be a great addition to the line. Hazelnut and white chocolate sounds good too.