2013 Book Review #55 The Cuckoo's Calling by Robert Galbraith
By Cher Cabula - Friday, December 13, 2013
There was such a buzz when it was revealed that this book was written by J.K. Rowling under the pseudonym Robert Galbraith. I admit that I didn't hear about The Cuckoo's Calling until I read that reveal in an online site. My initial experience with Casual Vacancy held me back at jumping at the chance of reading this book.

Her use of a pseudonym was quite surprising. I learned that the book was pre-released in Goodreads. Did she need the affirmation first while she tried her writing skills with the mystery and crime genre? Well, my curiosity finally got the better of me and acquired a copy to read.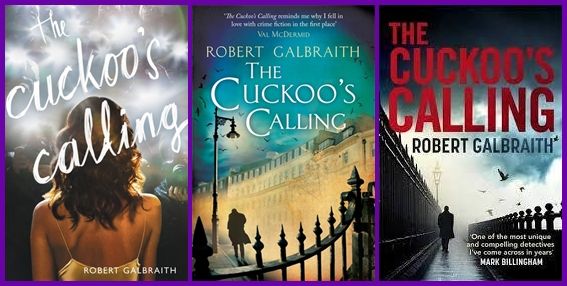 PLOT
Cormoran Strike is a small-time private investigator buried in debt. He's down to one client when John Bristow walks in and asks him to take a case. The case was to solve his sister's death. His sister was the supermodel Lula Landry whose death was ruled by the police and previous investigators as suicide. John was convinced it was murder.

IMPRESSIONS
I respect J.K. Rowling a lot, especially since she wrote the Harry Potter books that I'm such a fan of. However, The Cuckoo's Calling bored me to death. For me to like a book, the protagonist has to be likeable whether or not he/she is good or bad. Gillian Flynn writes characters who are so flawed and sinister but you'll end up liking them anyway. Here though, I liked Cormoran's assistant better. She was more interesting.

The book was interview after interview of the suspects that just got so monotonous. There wasn't enough interesting insights into Cormoran's thoughts. So I couldn't tell if he was making any progress in his case. The suspect was obvious from the very start and it was a chore to finally see the lead character figure it out.

VERDICT
Personally, I didn't understand the hype at all. I honestly have read better books in the same genre. The Cuckoo's Calling was an ordeal to finish and even though I'm still a fan of J.K. Rowling for writing the HP books, this was one book that fans can do without.




The Cuckoo's Calling
Robert Galbraith
1 star out of 5
book review
1 - Abysmal 2 - It's Okay 3 - Good 4 - Great 5 - Awesomeness of awesome

→ ♥ ←

Cher is a practicing Filipino Interior Designer with a passion to discover and learn new things. Follow her on
Twitter
for more updates and please like her
Facebook Page
too, you'll find something interesting, inspiring and fun posts there daily.
Creating Spaces
is her blog on Interior Design, check out her
Mindbox
for more interesting stuff and just to keep her a tad more busy is another blog for tips and crafts called
Little Rock Creations
.