Book Review: Drawing Recipes by Chiara Di Francia
By Cher Cabula-Mendoza - Tuesday, January 10, 2017
For this year's reading challenge, the first book that I've ticked off my reading list was Drawing Recipes by Chiara Di Francia. I've always wanted to illustrate recipes myself but never got around to doing so. This was a book that did just that.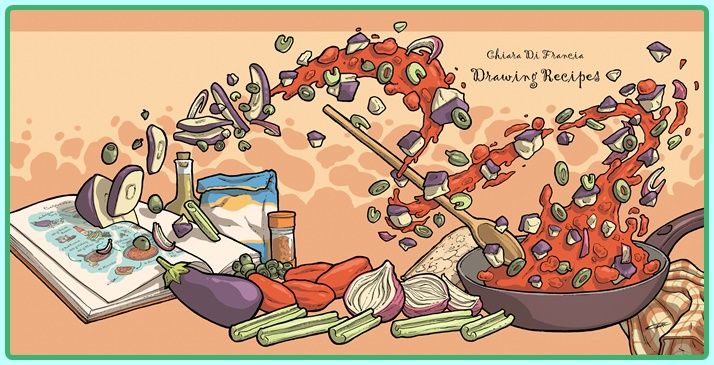 While most cooking books has lots of text and food photography, this book was purely illustration. There's 88 pages of really great illustrations. Each page is an instructional guide on how to cook the recipe. Take a look. See? I like that it's very very simple. It's really perfect to just put on a book stand while you're cooking.



Goodreads Synopsis:

Drawing Recipes
by Chiara Di Francia

Drawing Recipes is an illustrated cookbook where each Recipe is explained entirely by drawing. All the dishes chosen are very tasty and rather easy-to-make, they are divided into different categories: Breakfast & Brunch, Appetizers, Salads, Main dish, Pasta, Second Course and Desserts. Some dishes are typical of the traditional Calabrian cuisine, as Melanzane Parmigiana recipe or Pasta con le Melanzane (Pasta with Aubergine and Tomato sauce). Others belong to the Neapolitan tradition, such as Chocolate Eggplant: it is a dessert with a simply wonderful taste, usually made during the summer, to celebrate Ferragosto (mid-august Holiday).
Drawing Recipes by Chiara Di Francia

→ ♥ ←

Cher is a practicing Filipino Interior Designer, a full-time blogger and aspiring calligrapher with a passion to discover and learn new things. Follow her on Twitter for more updates and please like her Facebook Page too, you'll find something interesting, inspiring and fun posts there daily. Check out her Mindbox for movies and lifestyle updates. If you're an aspiring calligrapher and an art enthusiast, say hello at Cher's Creative Space.