Send a Valentine's Surprise Through the M&M's Fun First Move Project
By Cher Cabula - Wednesday, January 11, 2017
Like it or not, the holidays are now behind us but while we anxiously await for the holiday season to come once again, there's cause to celebrate next month as Valentine's Day knocks on our hearts and doors as the case may be.
Don't be that Valentine's Day grouch and share the sentiment of love to that special someone in your life. I'm offering you the chance to do it in a spectacular way. Here's how:

1. Buy any two packs of M&M's products.
2. Post a photo of the products you bought on your social media accounts with the hashtag #mmsfunfirstmove. Make sure these accounts are on public setting.
3. You can also present your proof of purchase to the M&M's booth in the store so that they can process your registration.
4. Wait for the winners to be announced. You just might get lucky!

What's at stake here? Well here are three fun ways that M&M's can make your special someone feel extra special this Valentine's Day.

M&M's RED will do a live seranade with a boyband for your loved one.
"If you can't say it, sing it!"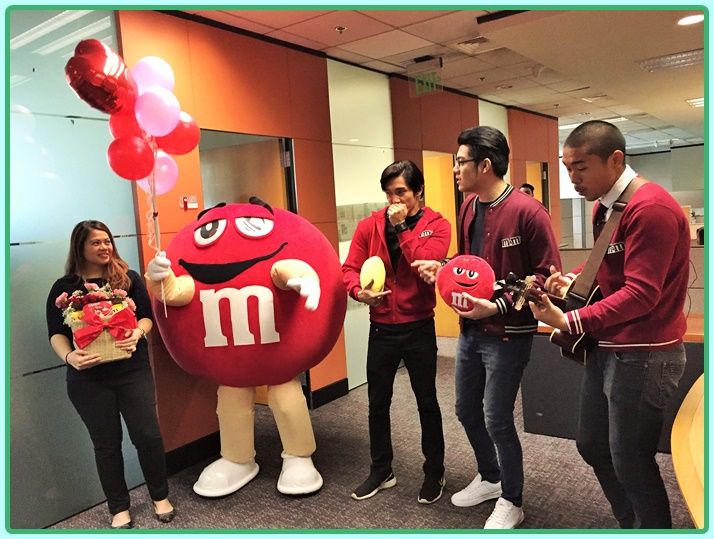 M&M's YELLOW will send love through his life-size Teddy Bear mate.
"Who will not have a soft spot for an adorable Teddy especially when I'm bringing it along with M&M's chocolates?"



M&M's GREEN will bring a hot real-life Cupid to deliver gifts.
"We are sure to make heads turn and have others literally green with envy."


ULTIMATE SURPRISE will be a helicopter ride enroute to a scenic romantic dinner South of the Metro plus more.
"How can someone forget an epic date like this, right?"

This campaign has officially started and will run until February 5th. Make sure to get your entries right away!

M&M's Fun First Move
→ ♥ ←

Cher is a practicing Filipino Interior Designer, a full-time blogger and aspiring calligrapher with a passion to discover and learn new things. Follow her on Twitter for more updates and please like her Facebook Page too, you'll find something interesting, inspiring and fun posts there daily. Check out her Mindbox for movies and lifestyle updates. If you're an aspiring calligrapher and an art enthusiast, say hello at Cher's Creative Space.