Women Can. Women Will. The 2nd BDJ Women's Summit
By Cher Cabula - Wednesday, March 15, 2017
I'm very proud to be part of this loving and empowered community of wonderful women and we would all like to invite you to take part in the second run of the BDJ Women's Summit which will be held at the Samsung Hall, SM Aura Premier on March 25, 2017 from 8am to 9pm. The women behind the Belle de Jour brand are encouraging more women to become change makers in today's fast-paced society. Together, we can all make our voices heard and make a difference.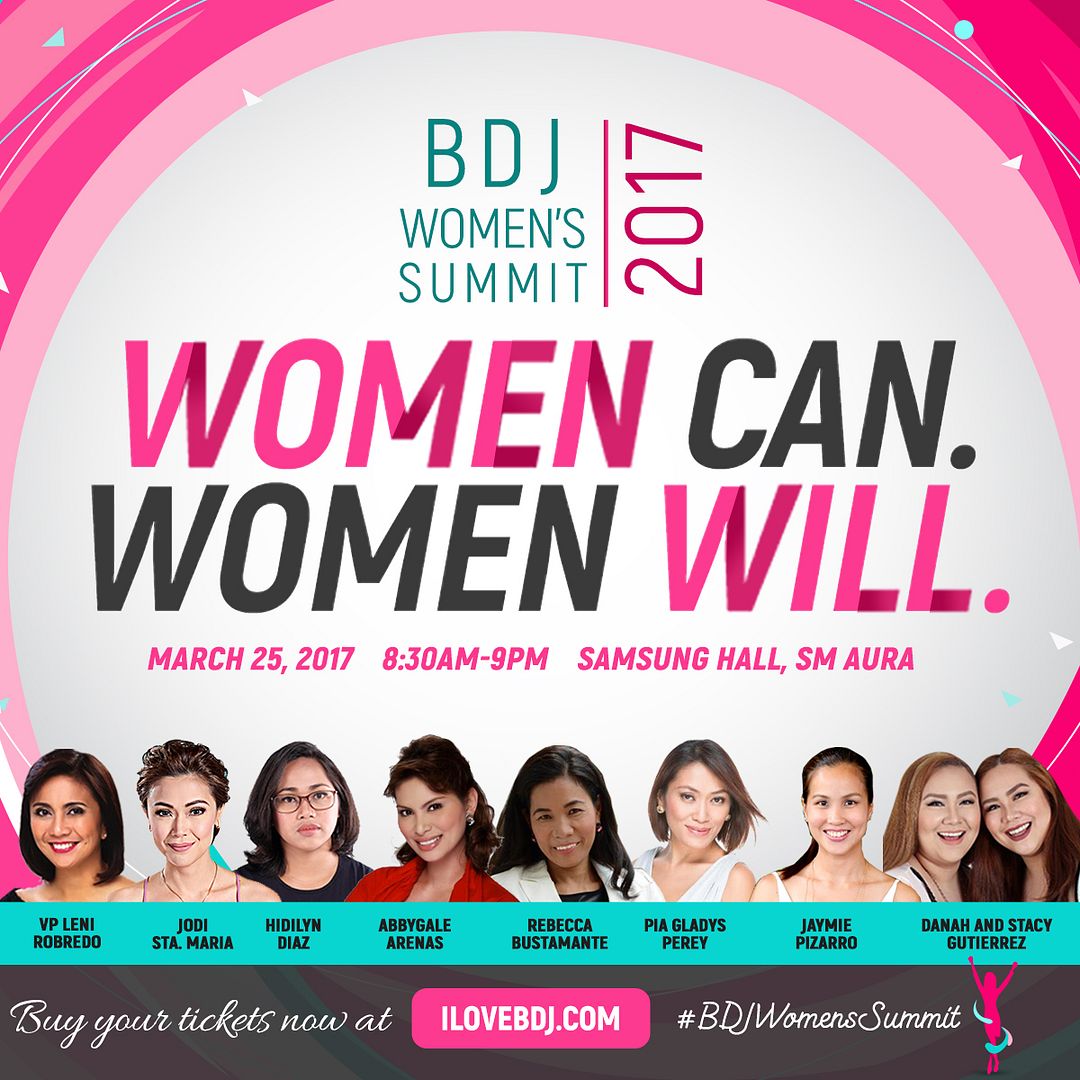 There will be an exciting line-up of speakers who will share their inspiring stories, insights on relevant topics and advocacies that are close to their hearts. The event will aim to open our eyes more and to broaden our awareness and knowledge towards goals that can further benefit the good of the community. Take a look at the schedule of speakers below:

(10:00 - 11:35) > Unleashing the Power Within
w/ ABBYGALE ARENAS (Former Model and Professional Image Consultant),
JODI STA MARIA (International Emmy Nominee, Actress)
HIDILYN DIAZ (Olympic Silver Medalist, Professional Weightlifter)
(11:40 – 1:50) > Make it Big by Starting Small
w/ REBECCA BUSTAMANTE (Founder, Chalre Associates)
PIA GLADYS PEREY (International Filipina Fashion Designer)
(2:00 – 3:05) > Be the Driving Force to Positive Change
w/ DANAH AND STACY GUTIERREZ (Editors-In-Chief, Plump Pinay)
JAYMIE PIZARRRO (Founder, The Bull Runner)
(3:10 – 4:00) > Keynote Speech: Women Can. Women Will
w/ VICE PRESIDENT LENI ROBREDO (Vice President, Republic of the Philippines)

Tickets to the event are priced at Php 500 and the proceeds of the event will go to Ahon sa Hirap, an institution that provides microfinance and other services to female entrepreneurs who live in poor urban and rural areas. I am also going to hold a giveaway to lucky readers who can get into the summit for free. So stay tuned for that.
#BDJWomensSummit #WomenCanWomenWill #WomenCanHelp


2nd BDJ Women's Summit

→ ♥ ←

Cher is a practicing Filipino Interior Designer, a full-time blogger and aspiring calligrapher with a passion to discover and learn new things. Follow her on Twitter for more updates and please like her Facebook Page too, you'll find something interesting, inspiring and fun posts there daily. Check out her Mindbox for movies and lifestyle updates. If you're an aspiring calligrapher and an art enthusiast, say hello at Cher's Creative Space.